The 21st Australasian Data Science and Machine Learning Conference (AUSDM'23)
Auckland, New Zealand, 11-13 December 2023
Welcome to Generative AI Day!
Join us for an exciting and informative event dedicated to the cutting-edge world of Generative AI. This special day features a lineup of thought-provoking sessions that showcase the latest advancements, insights, and applications of Generative AI. Our event begins with an inspiring keynote session, providing valuable insights into the current state and future directions of Generative AI for Aotearoa. Following this, our expert-filled panel will delve into applications and emerging trends. Lastly we have spotlight talks, showcasing innovative projects and real-world applications.
Keynote Session:
What might an AI Strategy for Aotearoa look like?
Madeline joined the AI Forum as Executive Director in 2022. She has extensive experience in strategy, transformational change and helping people to see the potential that innovative technologies bring.  Originally from New Zealand, Madeline spent 20 years working with AI and Tech in the mental health, financial services and regulatory sectors in the UK. Her more recent work included helping to shape and deliver the Financial Conduct Authority's internationally renowned RegTech innovation programme; and Head of Innovation and Product for a science based digital mental health service. She brings new thinking and international to our AI community.
Spotlight Talk:
A Voyage Through AI: From Biomedical Imaging to Insurance Chatbots and Beyond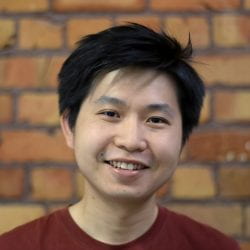 Dr. Ming Cheuk has worked with data and AI for over 10 years across academia and industry. As the co-founder of ElementX, he has led numerous AI implementations across a range of industries including education, finance, manufacturing, and retail. Through his role as an Executive Council Member of AI Forum NZ, Ming is actively contributing to the forum's mission of bringing together New Zealand's AI community to harness the power of AI technologies and create a prosperous, inclusive, and thriving future for the country.
Generative AI Day sponsored by the School of Computer Science – The University of Auckland